Tsum Valley Trek is an unrivaled gem of central Himalayan trekking. The Manaslu region has a spectacular environment, confusing mountain views, and a rich Tsum culture and traditions. Tsum Valley Trek is accessible to the public. It's become customary to expect the unexpected in this town recently. However, seeing Tibetan art and culture, as well as the mountain way of life, is a once-in-a-lifetime opportunity.
The colorful ornaments, amazing arts, kind hospitality, and friendly smiles of the residents will stay with you forever. Every place, however, has streets, beautiful monasteries, and Mt. Manaslu looming towering on the horizon. Because it's an exciting tale to tell back home. Tsum Valley is a genuinely magnificent dune still unspoiled by civilization and the art of living passed down through generations.
Book Your Trip To: Manaslu & Tsum Valley Trek (21 Days)
TsumValley often referred to as the Hidden Valley, is among Nepal's most fascinating and remote locations. The valley was closed to visitors until 2008, and it is mostly a hiking path that follows the Manaslu trekking route. Mountains pass, steep gorges, hamlets, gompas, chortens, and mani walls abound in the Tsum Valley and Manaslu area.
On the northern side of the region, the majority of the people are Tibetan and follow the Buddhist religion. These people have their own cultural customs and beliefs. Mountain ranges like Ganesh Himal, Sringi Himal, Manaslu, Boudha Himal, and others will greet you on your way to Tsum valley.
Tsum Valley trek Highlights
Moderate trekking track in the Himalayas with some scenic and adventurous sections.
Local Tsum ethnic people on a cultural expedition in Manaslu.
The vista of the Manaslu and adjacent mountain ranges is breathtaking.
High hills and sub-tropical climatic zones wildlife and plants showcased.
Beautiful pilgrimages and shrines with fantastic architecture that are historically significant (Mu Gompa and Rachen Gompa).
Views of the Himalayas' magnificent landscape during sunrise and dusk.
Yak and Chauri dairy products are used in Lower Himalayan and hill cuisine.
Real trekking experience in the limited areas of the Tsum valley's fewer frequented pathways.
Manasalu Tsum trek's route
The walking route follows the Budhi Gandaki, one of the Sapta Gandaki's major tributaries. The trail winds through a lush forest, terraced farmland, and hill communities.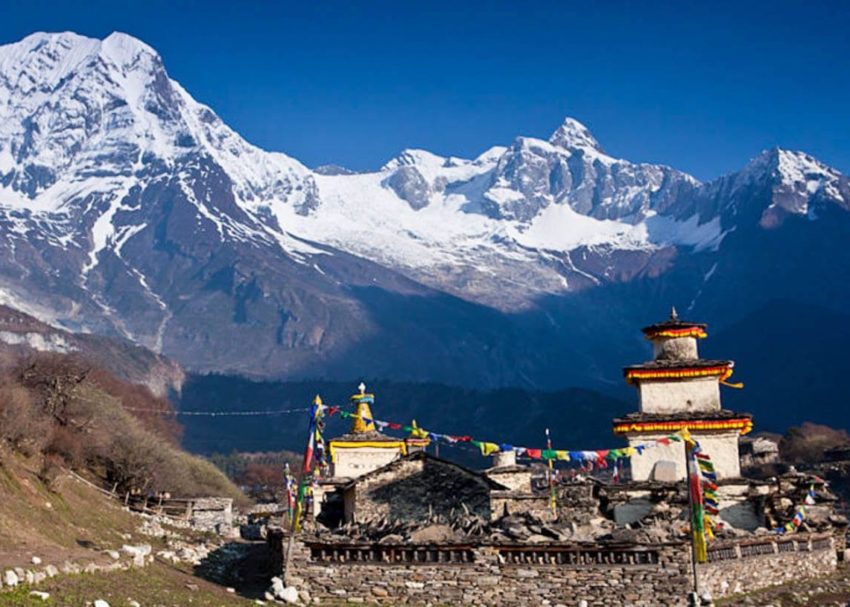 We'll go from Gorkha and Arughat to the south of Manaslu to reach Tsum Valley and Manaslu. We'll be touring the Budi Gandaki valley, as well as the surrounding forests and villages, for a few days. We follow the Tsum valley trail after leaving the Manaslu trail, and as soon as we enter the valley, it feels like we've entered the hidden valley. You'll pass through alpine forests, rivers, glaciers, and Buddhist Gombas including Milarepa's Cave, Rachen Gompa, and Mu Gompa along the trek, which includes both Manaslu and Tsum valley. The wonderful welcome of the ethnic groups will leave an indelible impression on you.
Permits required for the Mansalu and Tsum Valley trek
Manaslu and Tsum valley are two separate regions in the Gorkha district, but they are close together. The hiker can combine the Tsum valley trek with the Manaslu circuit trek into a three-week journey. To accomplish the Tsum Valley and Manaslu treks, trekkers must purchase four trekking permits as well as the necessary documentation before beginning the climb.
Tsum Valley, Mansalu trek Difficulty
The Tsum Valley Manaslu Trek is a challenging journey. The region's remoteness, along with the altitude, exacerbates the situation. Even though you will be able to experience the unspoiled beauty of nature, you will have to pay a high price. The trail is occasionally trafficked and includes a steep slope. You must walk 5 to 6 hours every day, which necessitates good health and athleticism.
Also Read: Yala Peak Itinerary, Trekking, Altitude, Map, Climbing Permit, Permit, Route, Climbing Cost
This walk difficulty is one of Nepal's most difficult treks, as well as one of the country's most remote treks. It is a hard trekking path that takes you through rural settlements in the Himalayan region. This may have been more challenging in the past, when there were fewer trails to choose from, resulting in more time and exhaustion. The hike is one of Nepal's lesser-known routes.
Tsum Valey trek altitude
Tsum Valley, at an elevation of 1905 to 5093 meters, is one of Nepal's most exciting trekking trails. The 'Hidden Valley,' with Baudha Himal and Himal Chuli to the west, Ganesh Himal to the south, and Sringi Himal to the north, is also known as the 'Hidden Valley.' This walk ( Tsum Valley Trekking ) takes you via two remote communities, Chhekampar (Upper Tsum) and Chumchet (Lower Tsum).
Best season for trekking in Nepal
The best time to go on a Tsum Valley trek is during the springtime and autumn. The most crucial aspects that determine the difficulty of any hike in Nepal are the weather and temperature. Unlike other treks, the Tsum Valley trip is busiest from March to May, September to November.
Book Your Trip To: Ghale Gaun Map, Trek, Homestay, Tour Package, Cost, Weather, Distance From Kathmandu
During the spring season, Nepal enjoys a pleasant climate. The hills will be covered in rhododendrons, orchids, and other blooming plants. Autumn is the most gorgeous season in Nepal. The weather is warm even in the highlands. The days will be clear, providing for the greatest mountain views. These two seasons are perfect for people from all across the country.
Tsum Mansalu valley trek Cost of permits
Normal Manaslu journey permits cost USD 110 per person from September to November; USD 90 per person from December to August; Manaslu and Tsum valley trek permits cost USD 145 per person from September to November; US Note that a TIMS Card is not required for Manaslu or Tsum Valley Trekking.
Tsum Mansalu valley trek Itinerary
Below is the detailed itinerary for your Mansaly and Tsum Valley 21 days trek, which may face some ups and downs due to reasonable causes such as a change in weather, health issues, delay of flights, and others.
Day 1: Drive from Kathmandu to Arughat (710 m), Driving duration: 5 to 6 hours
We start our adventure to the secret valley by boarding a direct bus from Kathmandu to Arughat. Along the BudhiGandaki river, Arughat is a lovely market. When you get in Arughat, check into the lodge and get some rest in preparation for the next day.
Day 2: Ascend from Arughat to Lapubesi (1008 m), Hiking duration: 4 to 5 hours
The route to SotiKhola is less congested from Arughat, so we can either take a jeep or trek through the Magar and Gurung settlements, which is a more picturesque option. Because of the hot temperature in this region, we'll see a lot of rice, maize, and millet growing in the fields as we drive past communities and farms. When we arrive in Arkhet, we will begin our trip to Lapubesi, where we will spend the night.
Day 3: From Lapubesi to Tatopani (930 m), Hiking duration: 5 to 6 hours
We cross through the Machhakhola as we continue our stroll down the river. We will have numerous ups and downs as we go. Be cautious since monkeys and langurs have been known to hurl pebbles. We pass via a Gurung village and a botanical park on our way.
Day 4: Hike Tatopnai to Philim (1590 m), Hiking duration: 6 to 7 hours
After traveling through several ups and downs, we arrive to Tatopani, where hot water spouts give a relaxing evening shower. From a dermatological standpoint, these hot water spouts are helpful. This location is pleasant and tranquil, ensuring that you have a good time.
Day 5: Walk from Philip to Chumling (2360 m), Hiking duration: 5 to 6 hours
From here on out, we'll be on a fantastic hiking trail. We travel north out of Philim after breakfast, passing through a dense pine forest with views up the shrinking valley and following a road that leads to the Larkya La. After that, we descend to a fork where we may choose to continue left to Ghan or right to Tsum Valley.
We next cross the SiyarKhola and enter Lokpa (2240 m), which is flanked by barley fields, after passing through a forest. When we arrive at Chumling after a few hours of traveling, we are greeted by an old gompa, orchards, traditional homes, and lovely stone streets.
Day 6: Ascend from Chumling to Chhokang-Paro (3010 m), Hiking duration: 4 to 5 hours
We begin our day by crossing a suspension bridge and a slip, then ascending up the valley to the east, with a spectacular view of Ganesh Himal, before arriving at Rainjam hamlet. We cross the SerpuKhola and join the track that leads to the upper Tsum valley later. We'll arrive in the settlement of Chhokang-Paro after a short stroll.
Day 7: From Chhokang-Paro to Nile (3361 m), Hiking duration: 4 to 5 hours
Use your time early in the morning to explore the hamlet; you could come across a That (wild goat). Following that, we continue east via some towns before climbing over a hill to see Milarepa's cave, a Buddhist sacred cave for meditation. Then we cross the Shiyar Khola, travel through a few villages, and arrive at an extraordinary circular stupa before entering the bigger hamlet of Chhule through an incredible entry gate. We travel upstream from Chhule communities, pass a bridge, and rise to Nile village, where we will spend the night.
Day 8: From Nile to Mu Gompa (3700 m) & explore Mu Gompa, Hiking duration: 1 to 2 hours
You'll be visiting the Mu Gompa today. We travel up the west bank via a small valley after breakfast. To each Mu Gompa, the last ascent is across the arid Tibetan landscape, with rows of Chotens. The monastery, an old gompa, and the Dhephu Doma nunnery are all located in Mu Gompa. Climb to the Kalung (3820 m) or Bhajyo (4030 m) passes for a view of Tibet from the Nepal side.
Day 9: Walk Mu Gompa to Rachen Gombe (3240 m), Hiking duration: 5 to 6 hours
As we continue on our adventure, we retrace our steps back to Phurbe. We traverse the flat stones that lead to RachenGompa while staying on the east side of the Sitar Khola. You can tour the community of gompa families and see an old gompa. At least one monk or nun lives in the family.
Day 10: Hike from Rachen Gompa to Gumba Lungdang (3200 m), Hiking duration: 5 to 6 hours
After breakfast, we return to ChhokangParo by crossing a bridge on the west bank and dropping below to Chumling. The journey to Gho Village takes around two horus, from whence we shall descend the route through the ancient gompa. We arrive at Domje after crossing a wooden bridge over the SiyarKhola. We leave Domje and hike a zigzag route through pine and rhododendron trees before arriving at Gumba Lungdang.
Day 11: Trek to Ganesh Himal Base Camp (4200 m), Hiking duration: 7 to 8 hours
Following morning, we go around the gompa through a white gateway and below the nuns' residence, then cross the LaudungKhola on a zigzag trail through the forest. We'll now ascend sharply for 30 minutes before walking across a hill amid beautiful pines and rhododendrons. After that, we arrive to a green area alongside the Toro gumba glacier, hidden behind the rubble.
After passing through several seasonal yak homes, we arrive at Ganesh Himal Base Camp after 4 hours of hiking. Return to GumbaLungdang by exploring the environs of Ganesh Himal Base Camp.
Day 12: Descend from Gumba Lungdang to Lokpa (2240 m), Hiking duration: 7 to 8 hours
We are presently on our way to Domje. We walk through a magnificent woodland after crossing the LaudungKhola through a new swing bridge and select the lower route to follow. We reach Ghumlong on the river after descending for a while on steep, slick steps, and then ascend again through a magnificent forest to reach Lokpa.
Day 13: From Lokpa to Ghap (2160 m), Hiking duration: 4 to 5 hours
We continue our trek down a trail until it splits at Philim, where we turn right to bridge the Budi Gandaki and find a teashop. The valley of Tsum is seen for the last time from this vantage point. Then, to reach Sirdibas, we traverse a tight valley with numerous ups and downs and cross the west bank. After that, we drive through a number of villages until arriving at Bihi, a stone-carving settlement. As we get closer to our objective, we travel through several gorges before crossing the SerungKhola and ascending once again to reach Ghap.
Day 14: From Ghap to Lho (3180 m), Hiking duration: 5 to 6 hours
We reach a lovely woodland of fir and rhododendron while keeping on the south bank, where numerous birds and grey langurs can be seen. We take a highly suggested small shortcut to the right after crossing the river and stroll along the riverside through a beautiful pine forest. We then go down a zigzag route that leads to Naming Village and ultimately to Lho.
Day 15: From Lho to Samagaon (3520 m), Hiking duration: 2 to 3 hours
Today will be a pretty simple and brief day. It's a short trek from Lho to Shyala through a pine and rhododendron forest, with Manaslu peak as our companion. We arrive in Samagaon after an hour of walking. We leave the magnificent vistas of Manaslu as we approach Samagaon, but are greeted with a world of yaks, meadows, and homes that appear to have sprouted from the stones. Take advantage of your free time during the day to acclimate and relax; you'll need it tomorrow.
Day 16: Rest day & explore Manaslu Base Camp (4900 m)
We'll spend the day at Samagaon village today to acclimate. Despite the fact that today is a rest day, we will travel to Manaslu Base Camp, which will take approximately 5 to 6 hours. You may stop by an ancient Gompa near Samagaon along the way. If you have more time, you can also go to the BirendraTac.
Day 17: From Samagaon to Samdo (3860 m), Hiking duration: 4 to 5 hours
We descend and follow the Larkya La route after breakfast, passing past Mani walls and Karma Kharka's juniper/birch woodland. We arrive at Samdo after hiking for a while and crossing a river.
Day 18: Descend from Samdo to Dharmasala (4460 m), Hiking duration: 5 to 6 hours
Today, we will descend, pass a wooden bridge, then rise while crossing two streams and admiring the massive Larkya Glacier. We arrive at the stone guest house after some time spent climbing (4450 m). Dharmashala, also known as Large Phedi, is a kind of shelter made of stone.
Day 19 : From Dharmasala to Bimthang (3729 m) via Parke pass (5160 m), Hikinf duration: 8 to 9 hours
We're leaving Dharmasala and heading towards Bhimtang today, so it'll be a long day. We drop via frozen lakes and arrive at Parke pass after crossing several moraines. The Himlung Himal (7126 m) and other mountains like as Gyaji Kung, Annapurna II, Cho Himal, and Kang Guru can all be seen from here. After that, we trek across the low fields till we reach Bhimtang in the dusk.
Day 20: From Bhimtang to Dharapani (1860 m), Hiking duration: 4 to 5 hours
Today's trip begins with a hike south beneath Bhimtang and a crossing of the Bhimtang glacier. We'll ascend up the far moraine divider to avoid stone-fall and enter a lovely woodland for safety reasons. We will witness several signs of a glacier flood as we continue up the river to Karche (2700 m). Following that, we'll travel to GurungGaon (2560 m) and then Dharapani.
Day 21: Drive from Dharapani to Kathmandu, Driving Duration: 8 to 9 hours
You will return to Kathmandu after breakfast. The path follows the Marsyangdi and Trishuli rivers as it crosses the Prithvi Highway. The route is set on moderate slopes high above the rivers and provides a picturesque journey to Kathmandu with greenery, rice fields, terraced farms, flowing rivers, green hills, and tiny villages. After a lengthy journey, you will arrive in Kathmandu.