The Gurung Hill Trail has been prepared by our firm, Asian Heritage Treks & Expeditions, and will take you through key Gurung/Ghale villages in Nepal's Lamjung and Kaski districts. You'll visit the villages of Thunsikot, Pas Gaon, Bhujung, and Ghale Gaon, which are the nerve centers of the Gurung population and are known for their beautiful mountain panoramas and mountainous scenery. During your stay, you will get the opportunity to sample local food, home-brewed alcoholic beverages, local culture, and traditional folk music, all of which will ensure that your trip is one to remember.
Book Your Trip to: Gurung Hill Trek (11 Days)
This trek is an easy/moderate trek. If you are just a beginner too, you can join this trek as it is not of very high elevations.
Gurung heritage route treks provide a look into Gurung culture and traditional hill country living, where little-known ethnic groups other than Gurungs may be discovered. The trekkers will get the opportunity to spend the night with a Gurung family in a traditional ancient house with a distinct lifestyle. The trek route includes beautiful Gurung villages such as Ghalegaun, Bhujung, and Pashgaun in Lamjung district, as well as Pakhrikot and Thumsikot in Kasi district, and is specifically designed for travelers such as researchers, students, and backpackers who want to learn about traditional Gurung life. Poon hill hiking may also be done through Gurung hill. It is located at a height of 3200 meters. Above sea level, it was only close to the Poon hill on the other side, and there wasn't much advertising. It is not widely known among visitors, although having a superior perspective of Mount Dhaulagiri and the Annapurna Himalaya range, which is dominated by fishtail and Annapurna south.
Highlights of the Gurung Hill trek
Experience a new path to Gurung Hill, 3200 meters above sea level, with views of the Annapurna Ranges and Dhaulagiri.
Trek on the Gurung Hill Trek, one of Nepal's alternate trails.
Trek on the Gurung Hill Trek, one of Nepal's alternate trails.
In the nearby villages, learn about Gurung and Magar culture and hospitality.
The altitude of the Gurung hill trek
The hike takes you past Gurung villages, rhododendron, bamboo, and pine woods, and rice terrace fields. Bathing in Jhinu Danda's hot spring will be one of the highlights of this journey. 11-day duration 3200 m is the highest point reached. Gurung Hill is a hill in Gurung, Nepal.
Also Read: Khayer Lake Trek Map, Itinerary, Height, Best Season, Cost
Gurung Hill Cost
March, April, May, September, October, and November are the best months for the Gurung hill trek. The pricing for 1 person is $360 in average. However, there are chances of negotiation if ypu are in a large group.
Best season for trekking in Nepal
Hiking and trekking are two of the world's most successful leisure activities. They may be excellent hobbies of delight if they are safe and successful. As a result, we must be very clear about when to stop doing these things before we start.
Hiking is doable in Nepal at whatever time of year. Autumn and spring are the best times to go hiking in Nepal. Every season has its own distinct personality. Autumn season lasts from September to November, whereas the Spring season lasts from March to May. Almost all of Nepal's areas are accessible during these two seasons.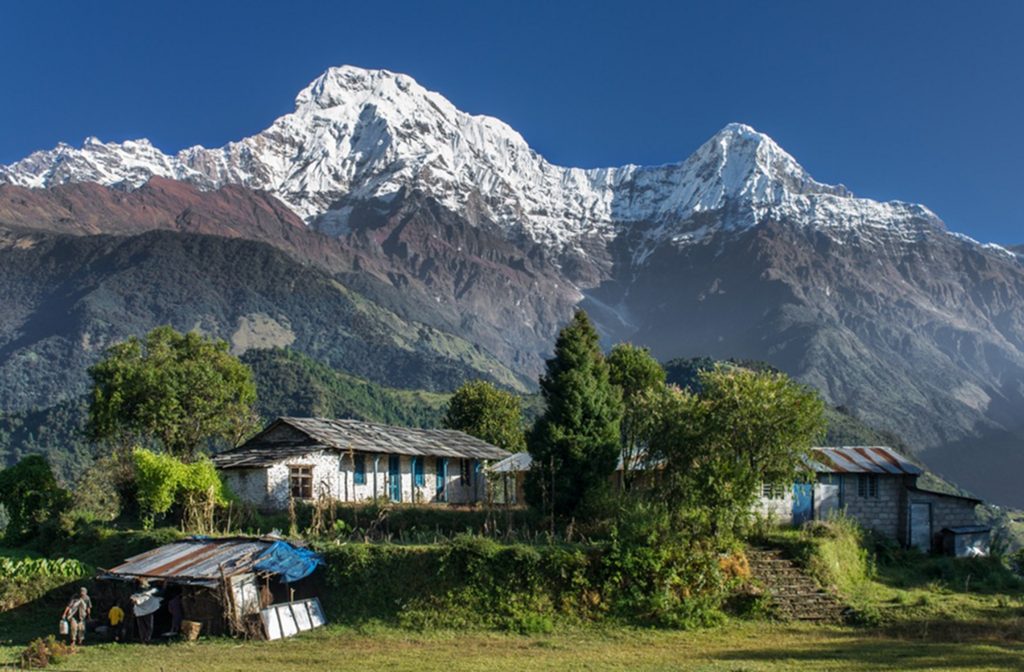 During the spring season, Nepal enjoys a pleasant climate. The hills will be covered in rhododendrons, orchids, and other blooming plants. Autumn is the most gorgeous season in Nepal. The weather is warm even in the highlands. The days will be clear, providing for the greatest mountain views. These two seasons are perfect for people from all across the country.
In the wintertime, the Mountains are a bit cooler (December to January). The kind of moisture will be snowfall. On the other hand, the days continue to be nice and sunny. It only rains on rare occasions. If you prefer to walk on peaceful pathways and are willing to brave the cold, winter is a wonderful choice.
Nepal is hit by the summer monsoon. You should avoid the summer season (June to August). However, this season may be the best time to explore rain-shadow areas like Mustang and Manang.
Gurung Hill Itinerary
The explained paragraphs below are the 11 days itinerary for your Gurung hill treks. We cannot assure you that the itinerary will go as planned because there are possibilities of mishaps that might be unavoidable.
Day 1: Arrival at Kathmandu (1400 m)
Our representative will meet, welcome, and help you upon your arrival at Kathmandu's Tribhuwan International Airport. After that, you will be taken to your pre-arranged hotel. After the flight, you can relax or roam about Kathmandu for the remainder of your time.
Day 2: Leisure day at Kathmandu
In Kathmandu, this is your free day. After breakfast at the hotel, you have a variety of options for how you want to spend your day; Kathmandu is a varied and cultural city with a lot to offer. Swyamambhunath (also known as the monkey temple), Pashupatinath temple (one of the most significant Hindu pilgrimage destinations), and/or Boudhanath Stupa are the three most important religious landmarks (a one of a kind stupa reflecting Buddhism in the world). You may also stroll the alleys of Old Town looking for souvenirs or tokens of affection for your pals.
Day 3: Drive from Kathmandu to Pokhara (827 m), Driving Duration: 6 to 7 hours
Have breakfast first thing in the morning before driving to Pokhara. Pokhara, often known as the Lake City, is a tranquil town around 200 kilometers west of Kathmandu. Along the roadway, you may take in the breathtaking scenery of rivers and various landscapes. When you arrive in Pokhara, check into your accommodation and relax. Later that afternoon, take a stroll around Pokhara's lakefront streets or explore the Phewa Lake bank.
Day 4: From Pokhara to Thunsikot (2000 m), Driving Duration: 5 to 6 hours
Check out of the hotel after breakfast, and we'll begin our journey to BijayapurKhola. We begin our journey by walking across flat rice fields for approximately an hour before crossing the river. Following the river, the route ascends to Kalikasthan. We drive to Thunsikot, where we spend the night, after arriving in Kalikasthan.
You may also like: Laya Lingshi Trek, Cost, Integrity, Map, Best Season
Day 5: Hike from Thunsikot to Pas Gaon (1652 m), Hiking duration: 5 to 6 hours
After breakfast, we set off on our journey to Pasgaun. We begin our hike on a straight, steep route. Pasgaun is a lovely village in the Lamjung region that has managed to keep its lengthy history, culture, delicacies, and architecture intact. Spend the rest of your time wandering about the village and learning about the culture.
Day 6: Walk from Pas Gaon to Bhujung (1700 m), Hiking duration: 5 to 6 hours
During the morning, we set off for KhumeruDanda (2200 m). The Himalayan ranges, including Mt. Manaslu, HimalChuli, NgagiChuli, Bhujung village, and BoudhaHimal, can all be seen from KhumeruDanda. Following our visit to KhumeruDanda, we descend through a thick forest to the Midim river. The tiny hydroelectric facility close to the river may be visited. Following the tour, we trek for around 30 minutes to Bhujung, which is home to about 400 Gurung households. Later in the day, take in the rich culture and mingle with the locals.
Day 7: From Bhujung to Ghale Gaon (2095 m), Hiking duration: 3 to 4 hours
Today, we'll hike to the well-known GhaleGaun. GhaleGaun is a place in GhaleGaun. We go to the long-established Gale and Gurung settlements, then to the renowned viewpoint, from which you can see numerous magnificent mountain vistas. On a clear day, the LamjungHimal range, the Annapurna range, and the Manaslu mountain range may all be seen from this vantage point.
Popular: Yala Peak Itinerary, Trekking, Altitude, Map, Climbing Permit, Permit, Route, Climbing Cost
Day 8: Walk from Ghale Gaon to Ghan Pohkara (1780 m), Hiking duration: 1 hour
We have a free day today. Following breakfast, we visit Ghana Pokhara, a major Gurung hamlet. We will get the opportunity to enjoy the beautiful splendor of the river valley that surrounds this hamlet. The valley offers spectacular views of the Annapurna and Manaslu peaks, especially around sunset.
Day 9: From Ghan Pokhara to Khudi (790 m), Hiking duration: 5 to 6 hours
We leave GhanPokhara early in the morning and go to Khudi village, our next stop. We'll see a magnificent waterfall and a cave on today's hike. You may also go to the Khudi Hydroelectricity Project's construction site.
Day 10: Drive back to Kathmandu, Driving Duration: 7 hours
We'll be heading back to Kathmandu today. We'll leave after breakfast for Kathmandu, which is roughly 186 kilometers distant. Views of the villages, Marsyangdi River, Trishuli River, rice terraces, mountain ranges, and more may be enjoyed during the trip. When you arrive in Kathmandu, check into your hotel and relax or take a stroll through downtown Thamel.
Day 11: day of departure
Your Nepal program comes to an end today. After breakfast, you'll pack your belongings, freshen yourself, and check out of the hotel. One of our employees will take you to the international airport to catch your aircraft to your next destination.