The Royal Trek is one of Nepal's most straightforward hikes. This trip in Nepal's Annapurna area is appropriate for all abilities and is named after Prince Charles, who trekked this path in the 1980s.
The walk takes you through an easy journey through terraced farmlands and rhododendron woods, and you will be rewarded with a breathtaking panorama view of Himalayan peaks including the northern Annapurna range, Langtang, and Mt. Fishtail. Along the route, you'll travel through a variety of ethnic settlements, each with its own distinct culture. It's a fantastic opportunity to engage with people and learn about their culture, customs, traditions, and way of life.
Book Your Trip To: Royal Trek (6 Days)
The Royal hiking excursion is mostly intended for novices who lack the time to go further. This Royal journey captures the traditional lifestyles of tribes whose old religious rituals and traditions have remained untouched for thousands of years, presenting a real image of uniqueness.
The Royal hiking path is less busy than other trekking regions in the Annapurna region, allowing you to get closer to nature, culture, and lifestyle.
Highlights of the Royal Trek Nepal
Pokhara is a seven-hour beautiful drive away.
This path is known as the Royal Trek since it was originally hiked by the Prince of Wales in 1980.
Beautiful mountain vistas include Annapurna South, Himchuli, Lamjung Himal, Manaslu, Fishtail, and Annapurna II, III, and IV.
Low-altitude hiking and easy walking
The rural Nepalese way of life and the traditional farming method.
Trek through the Annapurna Conservation Area Project's beautiful, thick woods (ACAP).
Siklis has mesmerizing dawn and sunset views.
Take a walk on the new paths and enjoy the peacefulness of this journey.
Royal Trek Difficulty
The Roya hike takes you to a maximum altitude of 2550 meters in Nauli Kharka over the course of six days. This hike also has a very moderate altitude increase. It will be pretty simple to adjust to the altitude variations. You may also face some hard uphills and downhills along the route. The Annapurna Khopra Siklis trip is an easy trek due to the low altitude increases and few uphills and downhills.
Also Read: Island Peak (16 Days) Itinerary, Height, Climbing Permit Cost, Difficulty
Even if you have little hiking expertise, you can finish this journey. The average day's trekking time is likewise only 5 hours. However, make sure you have a few of weeks of physical training before embarking on this journey.
Best season for the Royal trek in Nepal
The seasons of Autumn and Spring are ideal for visiting the Roya Trek trip.
The proportion of hikers who finish this journey in the fall and spring seasons is greater than the number of trekkers who do it in the summer and winter seasons. In these two seasons, the mornings are crystal clear. Furthermore, these seasons will have just a moderate quantity of sunshine and a minimal amount of precipitation, making it a trekker's paradise.
This trek's low altitude also provides you some excellent time throughout the winter season. Because the locations along this journey are low in elevation, the winter is not as cold as it is in the high altitude areas of the Annapurna region. Mountain vistas are especially beautiful in the winter.
Because of the low height of the locations, the amount of rainfall during the summer season is fairly considerable. You are welcome to join us for the summer journey as long as you have the necessary equipment and are ready to be flexible with your schedule.
Royal Trek Cost
The Annapurna Siklis Trek, also known as the Royal Trek, is an off-the-beaten-path hiking route in the Annapurna area that takes you to the Annapurna Conservation Area's southwestern corner.
Read about: Ruby Valley Trek Itinerary, Map, Cost, Highlights, Difficulty, Best Season To Visit
This journey will take you through charming towns, rhododendron woodland, pastures, and meadows before arriving at the Annapurna Conservation Area. The towns you will visit on this journey are located beneath the high mountains of the Annapurna area.
The cost of the Royal trek is about $1790 on average per person. However, if you are in a group the price may be negotiated.
Royal Trek Itinerary (6 Days)
This schedule is simply a guideline, and so we will stick to it as much as possible. Sometimes, owing to weather, health problems, natural catastrophes, and other unpleasant phenomena, your guide may decide to change or omit the itinerary for your own safety. Your guide will assist you at any moment by providing information about the conditions and safety of the hikes.
Day 1: Drive from Kathmandu to Pokhara (827 m), Driving Duration: 5/6 hours
Our guide will pick you up from your accommodation in the morning and drive you to Pokhara, which is 200 kilometers from Kathmandu. On the route, you can see the Nepalese greenery and the Trishuli river bank, which will follow you all the way up to Pokhara. When you arrive in Pokhara, check into your accommodation and relax. Early in the afternoon, you may take a stroll along Pokhara's lakefront street and to the bank of Phewa Lake.
Day 2: Drive from Pokhara to Kalikasthan (1370 m), Driving Duration: 1 hour, Hiking Duration: 5 hours
Now, we begin our adventure by driving to BijayapurKhola, where we will begin our walk. We begin our hour-long trek over flat rice fields and cross the river. After crossing the river, the route begins to gradually rise to Kalikasthan. We relax for a while after landing at Kalikasthan and then tour the nearby regions.
Day 3: From Kalikasthan to Syaklung (1730 m) Hiking Duration: 5/6 hours
After breakfast, we resume our journey. We stroll through the villages, passing via Thulokot to Mati Thana, where there are a few tea shops, before beginning our modest ascent to Naudanda. We continue along the mountain's crest, which provides excellent views of Annapurna and Lamjung Himal, before making a steep but brief ascent through the forest to the Gurung settlement of Syaklung. We may now explore the settlement, its inhabitants, and the rhododendron forests.
You may also like: Nar Phu Valley Trek Itinerary, Map, Permit, Cost 2021, Solo, Nepal Short Trek
Day 4: Hike from Syaklung to Chisapani (1550 m) Hiking Duration: 5/6 hours
We leave the Gurung village and go to Chisapani to continue our adventure. We go on, playing hide & seek among the rhododendron and Sal trees. The route dips to 400m halfway through the walk, followed by a 600m rise to Chisapani. A tiny temple may be seen on a high hill just above the Chisopani hamlet. The ChisopaniDanda, also known as the Chisapani ridge-top, is located here. This is the greatest vantage point for seeing the Himalayan panorama. Dhaulagiri is visible to the west of Annapurna.
Day 5: From Chisapani to Pokhara, Hiking Duration: 3/4 hours, Driving Duration: 30 minutes
This is our last day of hiking as we make our way back to Pokhara. The route falls for an hour around the field before ascending on a stone step into a tiny valley near Rupa Tal. We proceed through the rice field for a short way. Then we climb to the ridge that divides Begnas Tal and Rupa Tal. We descend from the mountain into Begnas Lake and travel for 30 minutes to Pokhara.
Day 6 Pokhara to Kathmandu, Driving Duration: 6 hours
In the morning, it's time to return to Kathmandu. It will take you around 6 to 7 hours to get to Kathmandu, and you should sit back and relax on the way back because today is a long journey. You will be taken to your hotel after you arrive in Kathmandu.
Few final words on the Royal trek, Nepal
The Royal trip begins in the beautiful lakeside city of Pokhara and continues through the Gandaki zone, a picturesque region of hamlets populated by Gurung ethnic people. It offers breathtaking views of hillside rice terraces and the magnificent Annapurna ranges, including Machapuchhre (fishtail) and Langtang Mountain, before concluding at the picturesque Begnas Lake. Machapuchhre is a holy mountain that has never been climbed.
Gurungs are a militaristic race whose members have served with distinction in the armies of Nepal, the United Kingdom, and India. Gurungs often dwell on steep hills and cultivate maize, millet, and rice. The most common type of livestock is the buffalo. Pastures may reach elevations of 12,500 feet. Gurungs practice Buddhism. They exhibit mongoloid characteristics and are often short and stocky. While the Gurungs have their own language, the majority of them speak Nepalese. Many younger individuals work in workplaces at lower elevations.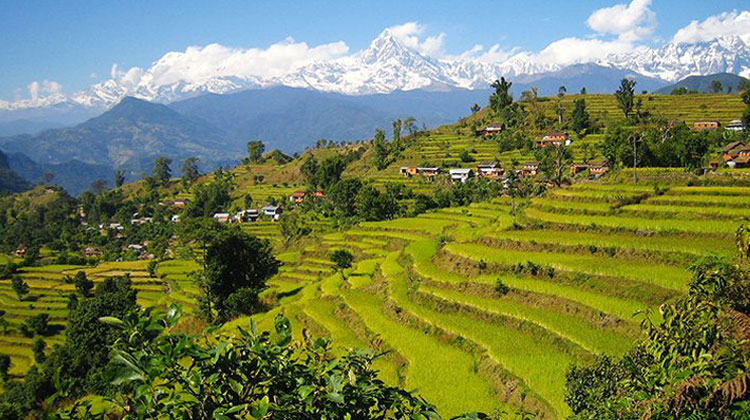 Aside from the aforementioned cultural monuments and mountainscapes, there may also be possibilities to observe spectacular wildlife and plants.
Rare snow leopards and blue sheep can be observed in the high sub-alpine steppe habitat. Other protected bird species include the multicolored impeyan, kokla, and blood pheasant. Butterflies and other insects abound as well. There are 100 orchid types and the world's largest rhododendron woodland.